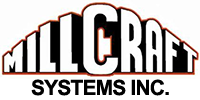 Millcraft Systems Inc. is your ultimate supplier of geometric shaped vinyl, composite and wood windows and doors. Millcraft has been working with window & door companies in Canada and the USA for over 30 years. Now operating in our new 25,000 sq. ft. facility we are even more committed to provide you with the service you expect, quality product that your customers expect and a turnaround time that clearly sets us apart from our competition.
It is our unparalleled ability to provide our customers with curved window and door products in almost any shape and size that has made us a leader in the industry. Vinyl window extrusion bending with a "Guaranteed Glass Fit" for your geometric shaped windows, allows you to order/make the glass while we are fabricating your shape. Our experienced staff and resources mean you will receive top quality and superior service to streamline your ordering for better efficiency, making Millcraft your supplier of choice.
Some of the services that we are able to provide are:
SPECIALTY SHAPED VINYL & WOOD WINDOWS
WOOD, COMPOSITE & VINYL TRANSOM SHAPES
CURVED TRIM CASINGS & MOULDINGS
WOOD WINDOW & DOOR COMPONENTS
WOOD & VINYL SDL BENDING
HISTORICAL WOOD REPRODUCTIONS
RADIANCE 1200 SERIES GARDEN WINDOWS
VINYL ARCHED & SQUARE GARAGE DOOR FRAMES
WOOD ARCHED & SQUARE GARAGE DOOR FRAMES
VINYL EXTRUSION BENDING
CELLULAR PVC BENDING
ALUMINUM GRILL BAR BENDING
ARCHITECTURAL WOODWORKING
CUSTOM WOOD ARCHED ENTRY DOOR SYSTEMS
Read more about Millcraft Systems Inc. history Here.